About Borová
Borova lies in "Ceskomoravska vysocina" highlands, along a state road between Svitavy and Hlinsko, about 10 km from a royal dowry town of Policka. The road touches the village only on its edge. Borova is located on the northern border of a protected landscape area of "Zdarske vrchy" hills and has a lot in common with this formation. Surface of the landscape is relatively simple. The village is located in a valley created by two ridges, spreads on both sides of the Black creek that runs through the valley and sprawls about 2 km. Borova is located at about 600 meters above the sea level. Its altitude determines to some extent a rather rough climate. The highest hill on the territory of Borova is the Bethlehem hill (748 m) and on the south somewhat lower Lucky hill (737 m). Borova belongs to the Policka region which has a low level of migration. For decades Borova has had about the same number of inhabitants (close to 1,000). A relative balance between the number of newly born children and the number of deceased is visible over a longer period of time. Borova is not a simple village. Several settlements belong to it:
Blatina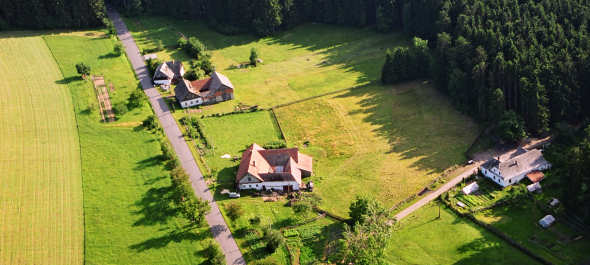 A settlement with four houses lies on a spanned hill, almost on a plateau. Formerly belonging to Pusta Rybna village, it has been part of Borova since 1964. Reallocation was due to a natural forest border and has improved accessibility. There used to be deep forests and there is a gamekeeper's house which no longer serves its original purpose. Blatina means a cut-over marshland.
Bukovina

There used to be 9 houses in this settlement, nowadays there are only 6 and a small St. John of Nepomuk's chapel. On the highest hill there is a forester's lodge, mentioned in a local chronicle as the last place where drudgery was enforced by Policka estate towards peasants in Borova. The area used to be covered with deep beechwoods – that is where the Czech name comes from (buk – beech). Bukovina is connected with Borova by a road, going through Teleci and Pusta Rybna and by a crosscut trail called "Bukovska", connecting Borova with Pusta Kamenice.
Cerkytle
A settlement of nine houses, located on a sunny side of a hill in a north-west direction from Borova, towards Greater part of Hate and Lubna. The origin of its name remains unknown. A crosscut trail called "Kralovecka" connects a road to Lubna, through the whole of Borova, by the Kralovec forest, through Hate to Anderliks at Zelinka.
Dědek
Dedek settlement of 10 houses is located on a flat part of a ridge, continuing after the Lesser part from Bukovina through Blatina and Betlem towards Lucky hill, the highest peak in Borova, 737 m. The origin of its name remains unknown.
Hatě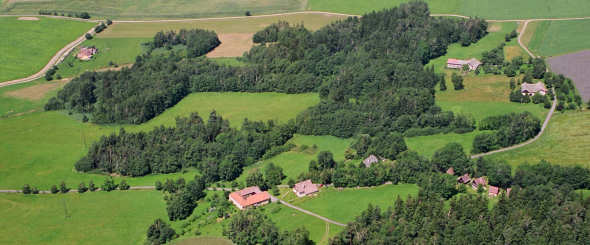 A hamlet with seven houses, connected to the Greater part in a distance of about 1 km from Borova, located partly on a plain, partly on a gentle slope, bordering with the Kralovec forest. The origin of Hate's name remains unknown.
Svatá Kateřina (borovská, poličská)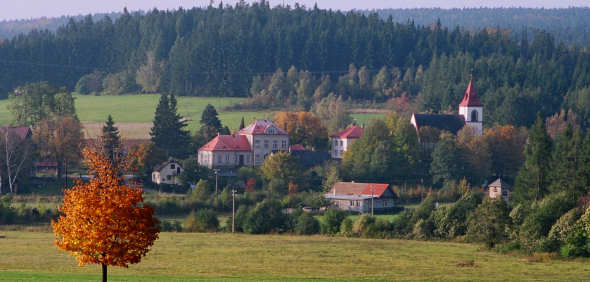 This part of Svata Katerina was purchased by the town of Policka in 1784 and then allotted to Borova. Borders of three estates met there: the estate of the town of Policka, estate of Nove Hrady owned by Countess Leopoldina Nadherna, and the Thurn-Taxis estate. There is a catholic church, a school and a factory there. The church is devoted to St. Catherine, thus giving a name to all three nearby settlements. After having burnt down several times, the church received its current appearance in 1890.
Svatá Kateřina (lubenská)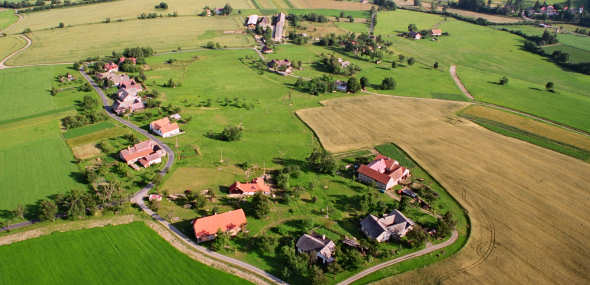 The upper part is called "v chalupach" (in cottages), the lower part "v chudobine" (in poverty). This settlement used to be part of Lubna village; since 1951 it has been included in Borova due to its natural inclination. Its fields, meadows and roads continue from Cerkytle towards the Kralovec forest. The settlement has been named after a catholic church of St. Catherine. There are 24 ha of land called "chantry" that used to belong to the church and were leased to settlers.
Svatá Kateřina (prosečská, též pasecká, novohradská)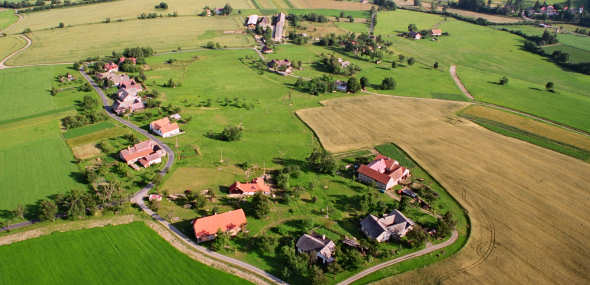 This settlement used to be part of Paseky village and belonged to the estate of Nove Hrady; that is why it is also called Novohradsko. Since 1964, it has been part of Borova due to its natural inclination. Its fields, meadows and roads create one unit with Svata Katerina of Borova and Svata Katerina of Lubna. It is located on a hill alongside a road to Prosec and a common trail in a valley called "Na Zvolich". A local chronicle notes that this was the first settlement in deep forests cleared for this purpose. The settlement is named after the St. Catherine church. The Borova part of the settlement used to belong to Policka, the Lubna part to Litomysl and the Paseky part to Vysoke Myto.
The name of Borova is quite frequent for settlements in the Czech Republic. Geographical lexicon of 1991 lists the total of eight individual villages of the same name. Villages that have an additional explanatory attribute attached to its name are not included in that number (e.g. Havlickova Borova).
Origins of the name are difficult to establish. Hypothetically, there are two possible options:
the name comes from "bor", an older expression for a forest
the name comes from "borovice"(pine-tree), a typical tree in the region